NEWS
      The lingering pandemic has already reshaped the global financial market, but foreign funds have still made their own ways into Vietnam. Kim Tae Hee, head of Capital Markets and Trading at Shinhan Bank, dives into how South Korean financiers are beefing up their presence in this landscape. Kim Tae Hee, head of Capital Markets and Trading at Shinhan Bank With..
      The global economy is reacting to the US presidential election results as they come in. Matthew Smith, head of Research at Yuanta Securities, discusses the stock market's potential gains for emerging economies and how Vietnam could continue to benefit from foreign investment inflows in the medium term.   Matthew Smith, head of Research at Yuanta..
      Functioning as the bridge between the northeast and Mekong Delta's pivotal economic zones, Phuc Long Industrial Park has grown into an investor magnet in the southern province of Long An.  Phuc Long IP has filled all its land space in the first phase After nearly a decade of development, the industrial park (IP) – with scale of 80ha and investment value..
      As Chair of ASEAN 2020, Prime Minister Nguyen Xuan Phuc will preside over the 37th ASEAN Summit and related meetings, which will be held via video conference from November 12-15, Vice Spokesperson of the Ministry of Foreign Affairs' Duong Hoai Nam told the ministry's regular press conference on November 5.   Prime Minister Nguyen Xuan Phuc speaks at the 36th..
      The increasing demand and the drying up of land banks in industrial zones has bumped up rental prices in first-tier property markets in Vietnam. Figures from CBRE Vietnam reported strong escalations in industrial land and warehouse rent. Industrial land rates went up 20-30 per cent on-year and warehouses have increased as well across industrial zones (IZs) in Ho Chi Minh City,..
Last week, locals blocked the roads to a waste treatment complex in Hanoi over relocation disputes in the latest battle to improve the capital's waste treatment system. Le Lien, representative of Canadian group Naanovo Energy Inc., talked with VIR's Hoang Dan his thoughts on how to treat urban waste effectively in cities around Vietnam after the three-day blockade brought the issue back to..
The signing of a series of agreements to develop billion-dollar liquefied natural gas-to-power projects is expected to create a "big bang" and improve the ranking of US investment in Vietnam. Global giants are keen on supplying liquefied natural gas for Vietnam's power generation, photo Le Toan At the Indo-Pacific Business Forum in Hanoi last week, the US Trade and..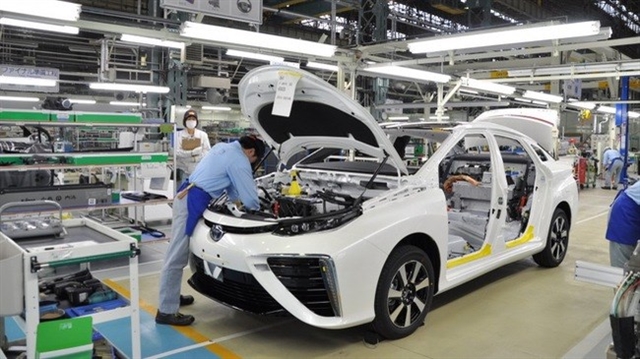 Workers assemble a car at a Toyota factory in Việt Nam. — Photo tapchitaichinh.vn HÀ NỘI — More than half a billion dollars in tax returns have been awarded to firms since 2017 in a bid by the Government to boost the country's auto industry and supporting industry, according to deputy director of the General Department of Vietnam Customs Lưu Mạnh Tưởng.  The tax..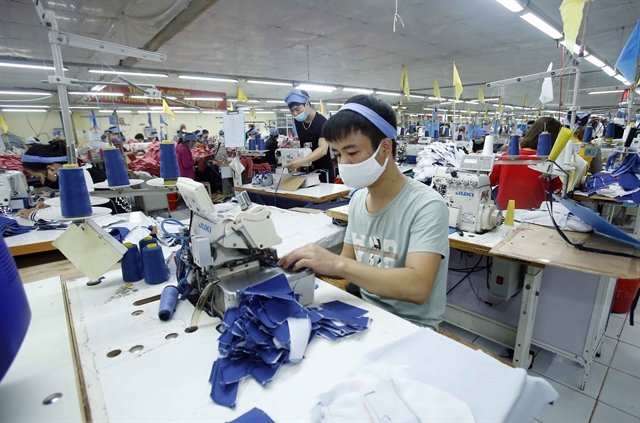 Textile and garment businesses are struggling to make use of free trade agreements, since most fabrics and other materials have to be imported. – VNA Photo Phạm Kiên HCM CITY – Việt Nam's underdeveloped fabric production is making it difficult for textile and garment businesses to take advantage of free trade agreements, including the Europe – Việt Nam FTA..
      Phu Yen People's Committee has allowed Song Cau Green Energy JSC to develop a wind farm, making it the first wind power project in the province. Phu Yen approves investment planning of first wind farm The first phase of the wind farm has an investment capital of VND1.76 trillion ($76.5 million) with the capacity of 50MW. The farm is located at Xuan Hai and..
      The prime minister has highlighted disbursing official development assistance (ODA) as the main mission of ministries and localities in the final months of this year. Disbursing ODA is a major task for Vietnamese ministries this year This was announced by Prime Minister Nguyen Xuan Phuc at the webinar attended by ministries and localities to review the ODA..