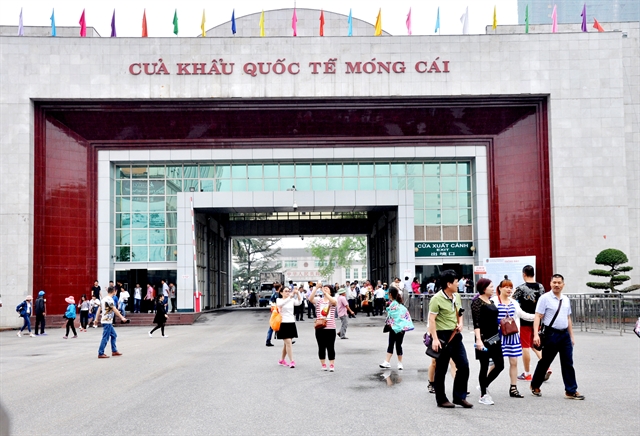 HÀ NỘI — Việt Nam and China, especially Guangxi Province, need to promote cooperation in resuming trade activities during and after the novel coronavirus (COVID-19) pandemic, according to Minister of Industry and Trade Trần Tuấn Anh.
Specifically, the two sides should resume supply chains and facilitate customs clearance for goods of the two countries, he said during a call at the weekend with Lu Xinshe, Communist Party Secretary of Guangxi Zhuang Autonomous Region, China. They spoke about strengthening coordination to overcome difficulties and minimise the negative impact of the COVID-19 pandemic on the two countries economic and trade activities, including between Việt Nam's localities with Guangxi.
The Minister proposed Guangxi improve efficiency and speed of customs clearance for import and export goods between the two countries.
Tuấn Anh also highly appreciated the important role of Guangxi in the export activities of Việt Nam's agricultural products to China and suggested Guangxi authorities propose the Chinese Government to create more favourable conditions for exporting Việt Nam's agricultural and aquatic products to China.
Of which, China should permit more border gates on land and railway to import Việt Nam's fresh fruit products, he said. China needs to launch customs clearance for trade activities via the Bắc Luân II Bridge, belonging to the Móng Cái-Đông Hưng (Dongxing) international border gate.
In addition, China needs to allow more kinds of agricultural products and fruits to be imported at the border gate on the Bằng Tường railway, said Tuấn Anh. China's General Administration of Customs should also give export licences for more Vietnamese enterprises as well as Việt Nam's fruits such as durian, passion fruit, avocado, grapefruit, coconut, custard apple, water apple and other agricultural products such as bird's nest and sweet potato to China.
The minister proposed that Việt Nam and Guangxi authorities need to build an action plan now to promote trade activities after the pandemic ends. The plan would focus on activities to support businesses of the two sides in enhancing trade activities, including trade promotion programmes and exchange of market information.
In the context of the pandemic, the two sides should consider new ways of trade cooperation, such as the organisation of online trade promotion activities and development of e-commerce, he said.
Lu Xinshe said the Guangxi authorities have implemented comprehensive measures to control the disease, resume production and facilitate import and export activities, especially border trade with Việt Nam.
He agreed with all proposals of Việt Nam and said that the two sides should soon expand trade activities at the Long Bang-Trà Lĩnh, Tà Lùng-Thủy Khẩu and Hoành Mô-Động Trung border gates.
Việt Nam needs to give priority to resuming air and marine traffic between Việt Nam and Guangxi, he said. Meanwhile, Guangxi will coordinate with relevant Governmental agencies to increase goods and businesses of Việt Nam allowed to export to China.
The action plan proposed by the minister Tuấn Anh was an important step for the period after the pandemic and during the implementation of the memorandum of understanding on strengthening economic and trade cooperation between Việt Nam and the Guangxi Zhuang Autonomous Region.
Border trade
According to the Ministry of Industry and Trade, on March 13, the customs office at the Hữu Nghị International Border Gate, Lạng Sơn Province, completed customs clearance for 171 trucks of export goods, including agricultural products, fruits, electronic components and machinery; and 321 trucks of import goods, including electronic components, machinery, garments, agricultural products, paper and auto parts.
There were still 171 trucks of agricultural goods and electronic components for export waiting for customs clearance.
The same day, at the Tân Thanh Border Gate, the customs office finished customs clearance for 151 export trucks, mainly agricultural products including watermelon, dragon fruit, jackfruit, banana, rambutan, bamboo leaves and tapioca, and 31 import vehicles of green beans, onion peanuts, mushrooms and garlic. Meanwhile, 514 trucks of agricultural products and fruit for export were waiting for customs clearance.
In Lào Cai Province, 318 trucks transporting export goods, mainly farming products such as dragon fruits, watermelons and bananas, and 235 trucks of import goods, including vegetables, fruits, fertiliser and others, completed customs clearance at the Kim Thành II Border Gate. Remarkably, there were no trucks waiting for customs clearance at this border gate. — VNS